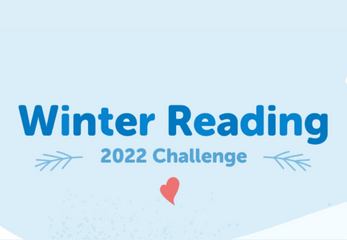 January 1-31, 2022
Children, teens, and adults: sign up at Beanstack online or download the Beanstack Tracker app on your device to participate in the Winter Reading Program.
Here are the registration instructions for:
Here are the instructions on logging reading:
We encourage our patrons to use Beanstack, but if you prefer a traditional paper log you can print out or pick one up at the library. Bring your completed log to the Children's or Adult Information Desk to log your hours and be entered into the grand prize drawing.
This winter, we invite children, teens, and adults to:
Track the number of minutes you read January 1-31
Earn free books (children and teens)
Earn raffle tickets to win grand prizes
Be sure to check this website and our Facebook page for the most up-to-date information.
Frequently Asked Questions
I just found out about the Winter Reading Program, but the January is already half over. Can I still participate?
Yes! Please estimate the time you've spent reading since January 1 and add this to your log.
If I choose not to use Beanstack, does this mean I'll miss out on the chance to earn virtual raffle tickets and win a grand prize?
If you use a traditional pen-and-paper log, be sure to contact us to log your hours. Staff will input your information in Beanstack and enter you into the drawing(s) you hope to win. The program ends on January 31, but please try to have those hours turned in at least a day before that so we have time to input them. For Children's logs, email mostrander@stolib.org. For Teen or Adult logs, email storef@stolib.org. Or you can call 608-873-6281.
Where do children and teens pickup the free book they earned?
Children can stop by the Children's desk on the first floor to pick out their book, and teens can stop by the Adult desk on the second floor to pick out their book.
Can my young child participate in 1000 Books Before Kindergarten and the Winter Reading Program at the same time?
Yes! Good news is, the books children ages 0-5 count toward both programs at the same time. For the Winter Reading Program, you'll log number of minutes spent reading. For 1000 Books, you'll log the number of books read (or re-read).