Image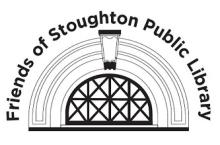 Who are the Friends?
The Friends of The Stoughton Public Library was established in 1984 as a 501(c) (3) charitable organization. We're comprised of volunteers with a Board of Directors and a dedicated group of members. We have a fondness for books, libraries, and reading. We raise thousands of dollars annually for the Library through fun events such as Pie Place, used book sales, special events and the Book Nook.
We're pleased to announce the winners of our Fall 2023 raffle! Many thanks to everyone who purchased raffle tickets.
Why become a Friend?
To meet people, contribute to our community, have fun and make our Library even more special than it already is. Membership is a great way to show your support and encourage reading in our community. As a Friend your support helps Library programs such as:
• The summer reading program
• Kanopy movie streaming
• Lucky Day and large print books
• Additions to the Library's collections
• Programs for children, teens and adults
• Book Page subscription on new books and reviews
• New and updated technology 
How to become a Friend
It's easy and rewarding to be a Friend of the Library. You choose your level of involvement. Maybe an annual membership is all you want to do. Or maybe you want to be a member and volunteer at fundraising events. Either way, your support helps the library and promotes reading in the community. Members receive a quarterly newsletter to keep you up to date on activities.
Want to honor a loved one, or remember a loved one who is no longer with us? Check out the Friends' Honor and Remember Cards.
For a membership application, click here. Applications can be dropped off at the Library Circulation desk or mailed to:
Attn: Friends of the Library
2364 Jackson St. #186
Stoughton, WI 53589
Email: friendsofstoughtonlibrary [at] gmail.com
Tel: 608-873-4050
Dues and donations are tax deductible to the extent allowed by law.