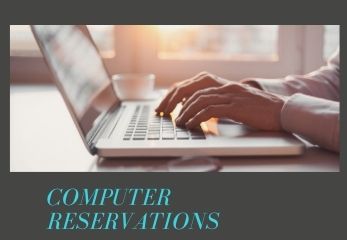 To reserve a computer, please call 608-873-6281 or email storef@stolib.org. Appointments are available 3:00-6:30pm Monday-Wednesday. If these times don't work for you, please contact us and we will try to find a time that fits your schedule. Social distancing guidelines and staffing schedules may affect availability.
How many computers do you have available for the public to use?
Due to COVID-19, current availability is limited in order to maintain social distancing (for patrons and staff). We currently have one computer open per session.
Do you have time limits for computer use?
Yes. Time limits are 90 minutes per person per day.
What if I'm late for my reservation?
Your reservation will be held for fifteen minutes. If you do not arrive within fifteen minutes of your reservation time, you will lose your appointment for that day.
May I print from computers?
Yes! 
May I use the scanning equipment?
Yes!  You may choose the Scan & Email feature.  If you prefer to Scan & Store (to a flash drive), please bring your own flash drive. 
Do you offer help or training with specific software?
Our librarians can often provide brief assistance with common programs or basic Internet functions. However, during this phase of reopening, tech assistance or training is limited to what staff can provide from social distancing guidelines of six feet away.
Can I pick up my holds during my computer use appointment?

No.  Curbside holds pickup (either express or by appointment) is the only way to receive holds at this time.
Similarly, you may not browse the collection, pay fines, or request Circulation assistance during this appointment.  If you see materials of interest, let a library staff member know, and we'll help you get set up with a curbside holds pickup appointment at a time in the near future. 
What are your computer use policies?
By using our equipment and network, patrons agree to our Internet Acceptable Use Policy and Library Materials Use Policy.
Wireless Access
You may make an appointment to bring in and use your own devices on the wireless network. However, this will be done using the same methods and scheduling as other computer appointments, so appointment availability will be limited.
Library Computers & COVID-19 Safety
All employees wear face coverings and practice social distancing, and we require that patrons do the same. We follow the guidelines of Public Health Madison Dane County (https://publichealthmdc.com/coronavirus/masks).
Therefore, "a face covering is defined as: a piece of cloth or other material that is worn to cover the nose and mouth completely. A face covering includes but is not limited to a bandana, a cloth face mask, a disposable or paper mask, a neck gaiter, or a religious face covering. A face covering does not include face shields, mesh masks, masks with holes or openings, or masks with vents."
Computer stations will be sanitized between uses, but we recommend the use of hand sanitizer before and after computer use and library visits.
You will be asked the following screening questions when you make your reservation (if the answer to any question is yes, please wait and make your appointment when your symptoms or self-quarantine period has ended):
1. Are you currently experiencing any of the following symptoms?
Cough/shortness of breath
Fever >100 F
Chills
Muscle Pain
Sore Throat
New loss of taste or smell
Any other symptoms of respiratory infections not attributable to seasonal allergies
2. Have you received a positive COVID-19 test result or diagnosis in the past 14 days? 
3. In the last 14 days, have you been exposed to an individual who later tested positive for COVID-19? 
4. Are you or a member of your household currently awaiting the results of a COVID-19 test?
Guidelines for Safe Computer Use
All of the building doors remain locked. Staff will admit patrons with computer appointments for their appointed time slot.
 
Patrons are required to wear appropriate face coverings at all times. If you forget to bring a mask, we will give you a disposable mask upon entering.
 
Hand sanitizer is available.
 
Patrons are only allowed in the computer area, the basement restroom and the limited walkways leading between these areas.
 
Eating inside the library is not allowed at this time. Beverages with lids are allowed but remember to keep a mask on at all times. 
 
Computers do not come with headphones and earbuds are not currently for sale. Patrons are welcome to bring their own.