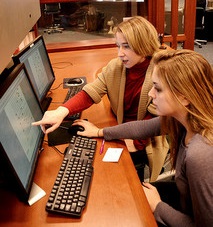 Contact the library in person, on the phone at 608-873-6281, or via our Contact Form for research assistance.
Reference Librarians
Library staff can help you find a book, research a topic or use the Internet during library hours.
Featured Resource 
Consumer Reports resources can be accessed two ways through your library. Visit ConsumerReports.org from any library computer or with your library card from home, and you'll have full access to this wonderful database. You may also access the full text of Consumer Reports magazines through EBSCOHost Databases. Contact the library if you would like more information on this option. 

More Reference Databases and Helpful Links
Free Internet Access
The library has free Internet access on public computers and free wi-fi access throughout the building. Library staff can assist you with online searching.
(Photo by WashULibraries @ Flickr)