Image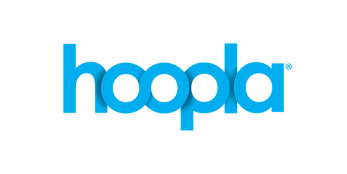 The Stoughton Public Library is pleased to introduce Hoopla! Use your library card to download free eBooks, audiobooks, music, and movies to your phone or tablet.
To get started, download the Hoopla app from your device's app store, and login using your library card number. Having trouble? Call 608-873-6281 or email storef [at] stolib.org for assistance.
Your library card gives you five instant borrows each month. They will replenish automatically on the first of each month. (Credits do not roll over from month to month.) You may borrow more than one item at a time.
Loan periods:
eBooks and audiobooks: 21 days
Videos: 2-3 days
Music: 7 days
We are able to provide our patrons free access to Hoopla thanks to a generous, anonymous community donor. Many of the library's resources and programs are made possible by the Friends of the Library, as well as individual donations. If you'd like to donate to the library, here are some of the best ways to show your support:
Frequently Asked Questions
Is there a long wait list for holds?
You will receive five credits per month. Items may be borrowed immediately--no long wait lists! Most items use one credit to borrow, but check out BingePasses which give you access to collections of items such as magazines and Great Courses using only one credit.
I'm trying to log in, but I keep getting an error message.
Make sure you're trying to login to the Stoughton, Wisconsin library and not the Stoughton, Massachusetts library. Otherwise, give the library a call at 608-873-6281 and we can check to see if your card is expired.
I want to learn how to use Hoopla, but I'm not tech savvy.
We're happy to set up a one-on-one or small group training with you. Call 608-873-6281 or email storef [at] stolib.org to schedule. Please bring your library card with you to the training. If you plan to use Hoopla on a phone or tablet, be sure to bring that device as well.
I accidentally borrowed something I didn't mean to. If I return it right away, will my credit be refunded?
Unfortunately, it will not. Every time you borrow something, you will be prompted with an "Are you sure?" popup. Make certain this is the item you are interested in before you click "Borrow."
Where can I see how many credits I have remaining for the month?
Choose "My Hoopla," then "Borrowed." Near the top of the screen, it will tell you how many credits you have remaining for the month.
How do I filter mature content for my child who wants to use Hoopla?
When you create their account, click on Settings and select Kids Mode to make available only content recommended for ages 12 and younger. You can set and require a PIN to unlock kids mode.
I know Libby and Overdrive are technically the same thing. Is Hoopla also the same?
No, Hoopla is a completely different collection of materials than Libby/Overdrive. You can download the free Libby app from your device's app store, or access Overdrive on your computer. We encourage you to use Hoopla as well as Libby/Overdrive!
Can I set my loan periods to a longer time frame like I can with Libby/Overdrive?
No. Loan periods are set by Hoopla, and are unable to be changed.
Hoopla doesn't offer the item I'm looking for. Can I request it to be added?
We are only able to offer the titles already available in the Hoopla catalog. If you're looking for a newer title, check back later to see if it has been added. Otherwise, we recommend checking a print book or DVD out of the library, or placing a hold in Libby/Overdrive if it's available there.
I'm searching for individual titles I'm interested in and most of them are not available.
Hoopla may experience a delay in being able to offer the newest and most popular titles, and they may be unable to add some popular titles altogether. We recommend browsing Hoopla to discover books, movies, and music you may be interested in. If you're interested, be sure to turn on notifications in your settings--the more you check out, the more personalized your recommendations will be. You can also Favorite authors, musical artists, actors, and audiobook narrators so you have a list reminding you to check back for new items.
Can I download files onto a Kindle or mp3 player?
No. If you have a newer Kindle or Amazon tablet, you may download the Hoopla app and sign in. But older Kindles, Nooks, or mp3 players that require transferring a file will not work with Hoopla.
I don't live in Stoughton. Can I still use Hoopla?
In order to access Hoopla via our library, your Home Library must be set to Stoughton Public Library. Bring your library card to one of our Information Desks or give us a call if you'd like to make this change. If ours is not the library where you typically pick up your holds, please note that you will need to manually change your pickup location to your preferred library every time you place holds.