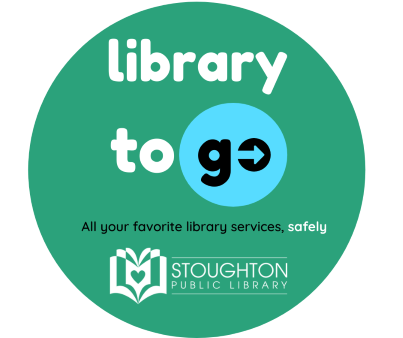 The Stoughton Public Library is excited to announce that we are moving to our next phase of reopening May 17-July 7! This next phase is called Library to Go: your favorite library services, safely.
The Library's open hours during this next phase will be as follows:
Monday – Thursday: 1:00-7:00 pm
Friday – 1:00-5:00 pm
Saturday – 10:00 am-3:00 pm
YES, these services are available:

Browsing all collections
Holds pick-up
Computers (60 min. sessions), printing, faxing, scanning, WiFi
Restrooms
 

NO, these services are not yet available:

Seating
All in-person events & programs
Study room reservations
Eating and drinking
 
Total visitor capacity is limited at this time, so we are asking patrons to limit their time in the building. All seating has been removed during the Library to Go phase. Computer sessions are limited to 1 hour. 
Returns: Please continue to return all library materials using the outside book drop located on the south side of the building near the parking lot. The outside book drop is open 24/7, 365 days a year.
Guidelines for visiting the library during the Library to Go phase:
Wear a mask – We ask that all visitors over the age of 5 wear a mask in the building, even if you are fully vaccinated. Our busy library sees hundreds of visitors per day, and we continue to believe that masks are the best way to make sure our space is safe for everyone at this stage in the pandemic.
Leave food and drink at home – For now, please refrain from eating and drinking in the library
Limit your visit – During this phase we are limiting capacity to protect everyone's health. Minimizing your time in the library will ensure more people have access to services. Computer sessions are limited to 1 hour. If the library reachs capacity, we will shift to hold pick-up only and no additional patrons will be admitted for browsing.
Maintain physical distancing – We have placed signs and decals at points of service to remind everyone to maintain 6' of distance at all times.
Sanitize your hands when you enter the building – Hand sanitizing stations have been placed at the library entrance and on the 2nd floor. Restrooms are also available.