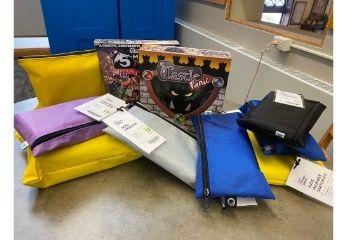 The library now has board games available to check out!  Give one (or a few) of them a try today!  These board games vary in recommended ages (from about 8 to 14) and are kept inside the TARDIS (now located on the top floor of the library). Give us a call at (608)873-6281 or email storef@stolib.org to find out what games are available and to check them out (if you need information on our curbside pickup system, you can find that on this page).
Most of the collection can be viewed at our Board Game Geek page. 
Other game kits include the following:
*Dungeons & Dragons Essential Kit (Dragon of Icespire Peak)
*Dungeons & Dragons Starter Kit (Explore the Lost Mine of Phandelver)
The loan period for these board games is two weeks and they can be renewed. These items must be checked out from the Stoughton Public Library. Please return board games to the Stoughton Public Library.
Videos can be a great way to learn the rules of new games. Check some out here.