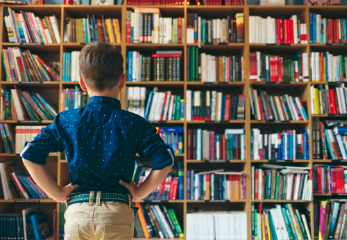 Library to Go: Next phase of Library reopening to begin mid-May
Ever since COVID-19 turned our world upside down a little over a year ago, we here at the Stoughton Public Library have faced the challenges of this pandemic head-on, shifting and adapting our services and programs to continue serving our community while protecting the health and safety of everyone, especially the most vulnerable among us. For much of the past year, this has meant curbside delivery of library materials, virtual programs, and computer use by appointment.
The decision to limit access to our building has been the hardest I've ever had to make in my professional career. Our staff misses the daily interactions with our friends and neighbors, and I know all of you miss being able to browse the shelves.
That's why we are excited to announce the next phase in our reopening plan, which we're calling "Library to Go: Your favorite library services, safely."
If cases of COVID-19 continue to decline in our community, we will move into the next phase of reopening in the middle of May. At this time we do not have a firm date set, but we hope to identify a target date in the coming weeks. Welcoming the public back into our building will be a major step on the road to recovery.
At first, the library will look very different from the one you remember from last year. During this first phase of reopening, we will be limiting capacity and asking our patrons to limit their time in the building. All areas of the collection will be open for browsing but all seating has been removed. A limited number of computers will be available for use during this next phase, along with copying, faxing, and scanning services.
We will continue offering curbside pick-up appointments for those who are not comfortable coming into the building. These appointments will be scheduled in the mornings; the building will be open for browsing in the afternoons and early evenings. Further details about hours and services will be posted on our website, stoughtonpubliclibrary.org, in the coming weeks.
I am profoundly grateful for the patience, support, and kind words so many in the community have offered over this past year. When I took over as Director a little more than two years ago, everyone told me how much this community values its public library. Now, after more than a year steering our library through this global pandemic, I know this to be true.
We look forward to seeing everyone in person next month. In the meantime, please know that your Stoughton Public Library staff are working harder than ever to educate, enrich, empower, and engage our community. Of all the things that have changed over the last year, this, at least, remains the same.
In gratitude and hope,
Jim Ramsey, Director
Stoughton Public Library