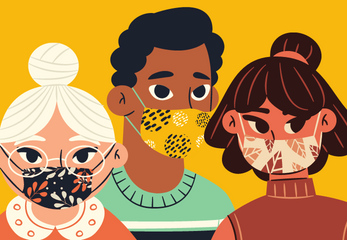 Monday – Thursday: 9:00 AM to 9:00 PM
Friday & Saturday: 9:00 AM to 5:00 PM
Sunday: 1:00 to 5:00 PM
Safety guidelines for visiting the library:
Masks are required in the library  – Per emergency order of Public Health Madison Dane County, face coverings are required for everyone age 2 and older, regardless of vaccination status. Our busy library sees hundreds of visitors per day, and we continue to believe that masks are the best way to make sure our space is safe for everyone at this stage in the pandemic.
Maintain physical distancing – We have placed signs and decals at points of service to remind everyone to maintain 6' of distance at all times.
Sanitize your hands – Hand sanitizing stations have been placed at the library entrance and on the 2nd floor. Restrooms are also available.