Image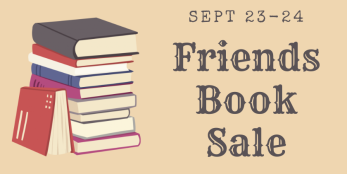 Visit the library's basement Carnegie Meeting Room for a huge Friends of the Library Book Sale!
Friday Sept. 23 from 1 pm – 4:45 pm
Saturday Sept. 24 from 9 am – 4:45 pm
Bag sale Saturday afternoon. All genres of books are included as well as old (late 1800s to early 1900s) and vintage books, some first editions. Audio books, CDs, DVDs, and large print books included. All proceeds benefit the library.